Strict Quality Control
Strict Quality Control
Both the manufacturing company (plant) and the manufacturing and sales company (our company) for Naśtent established a strict quality control system certified under ISO 13485*1 accreditation.

Naśtent is manufactured through a total of 10 processes in a dedicated plant with clean rooms.*2 For all the processes, established control systems ensure that only products that satisfy strict criteria are shipped.

Moreover, we employ a monitoring system to consistently deliver safe products to customers whereby durability tests, dropout resistance tests for nose clippers, and tensile tests for tubes are conducted for each lot as part of the risk management process.
*1 :

ISO 13485 is an international standard for the quality management of medical equipment that incorporates quality control, quality assurance, safety, and reproducibility.

*2 :

A clean room is a space with controlled temperature and humidity according to prescribed criteria as necessary where dust floating in the air is limited to a set purity level.
Manufacturing plant
Contract manufacturer: Ningbo Super Resin Co., Ltd. (China)

Manufacturing and sales office

Manufacturing process flow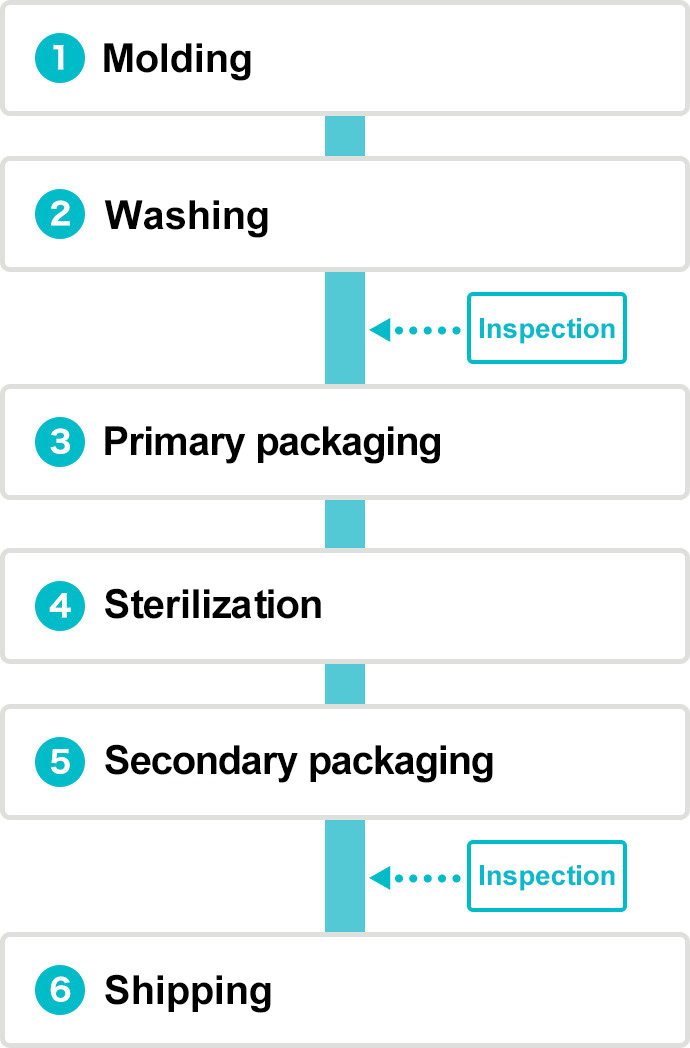 Manufacturing process flow
Preparation prior to manufacturing

Before entering a clean room, workers change into dedicated and sterilized clean clothes, except underwear, take an air shower, and then enter the clean room

Change of clothes

Sterilization

Air shower

Naśtent molded product

Washing and drying




Inspection prior to packaging

All products are subjected to visual appearance and dimensional inspections.

Primary packaging

Image of the whole workroom

Naśtent products applied with a lubricant are packaged in aluminum pouches.

Sterilization

High pressure steam sterilization

Products are sterilized with high pressure steam.

Secondary packaging

Labels with the manufacturing date and lot number are attached in order to secure traceability.

Shipping decision

Inspectors verify that the products passed inspections for all processes according to strict criteria.

Shipping