Discreet, easy-to-use and portable.
Nastent is designed to secure the air flow in the upper airway during sleep. It is a new treatment option for individuals suffering from snoring, or frequently awakening during sleep.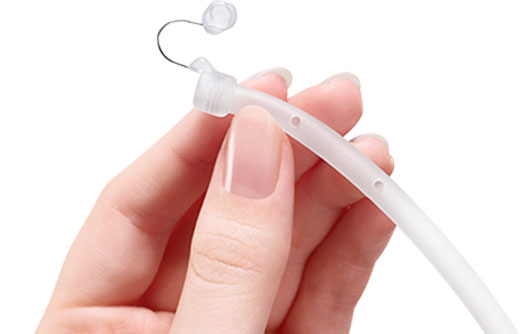 function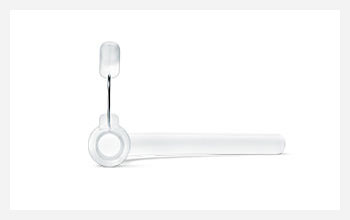 Application of a method used in emergency lifesaving practices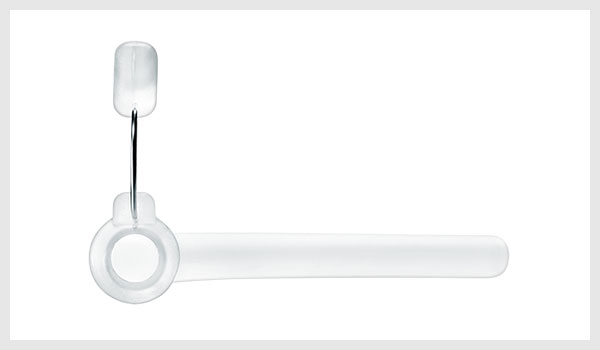 Nastent is a tube-shaped medical device inserted through the nose to prevent the obstruction of the airway that causes snoring and frequently awakening during sleep. The method of inserting a tube to secure an airway has been used when a patient loses consciousness or is under anesthetic. It is a proven method already used at countless medical institutions.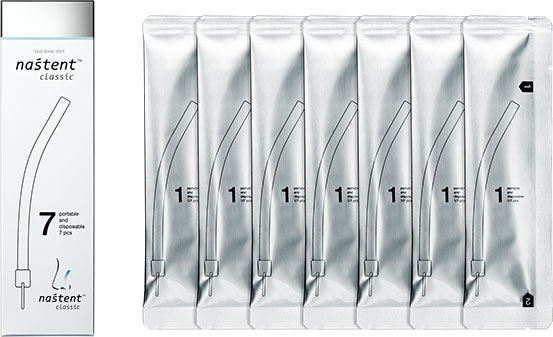 Softness resembling human skin

The main material used in Nastent is silicon rubber with a hardness of 5 to 20, resembling the feel of human skin. We selected a material that minimizes psychological resistance and discomfort during insertion, while also effectively preventing obstruction of the airway.

Gel moister than the human body

The tube is coated with hydrogel as a lubricant. Water accounts for more than 80% of the weight of the hydrogel, which is designed for smooth use by all patients. Furthermore, each Nastent tube is individually packaged and sterilized, completely eliminating the need for preservatives.

Nose clip with folding structure

The nose clip is attached to the bridge of the nose (the part separating left/right nostrils). The unique folding structure makes it easy to firmly set the clip for use during sleep. Made from silicon rubber, the clip feels as if the bridge of the nose is being gently pinched.

Hygiene for the health

Because the inside of the nose is made of soft and sensitive mucous membranes, medical devices inserted into the nose must be clean. Each Nastent tube is carefully packaged and sterilized individually for freshness and cleanliness. Always using new products reduces the risk of inflamed mucous membranes caused by foreign objects.

Portable

There are 7 Nastent tubes in one box. A single piece weighs approximately 47–48 g, making it light and compact, suitable for users during vacations and business trips.

Size and length

Nastent is available in 6 different lengths and 2 types of hardness. Consult with your doctor to select the best size of Nastent for you. For trouble-free fitting from your next purchase, note down the 2-digit number printed in large text on the outside of the box.